Drop us a line
Book A Service
Specialised Rug Cleaners In Melbourne, Get Your Service Now!
Having more than two decades of experience, we are working in the Rug Cleaning in Melbourne industry. At Rons Rug Cleaning, professionals are multitaskers and provide premium quality domestic & commercial rug cleaning services throughout Melbourne.
We are certified with the status Rug Cleaning Technicians, maintaining our reputation by providing quality cleaning. Our company specializes in deep cleaning rugs as well as protecting the rugs from possible stains. So, whenever you require to get the service of rug cleaning, contact us. We will be there at your place to sanitise or clean the rug. We work professionally no matter what the condition of the rug is.
"Get a Free Quote" by calling us at 03 6145 0135 and avail of our world-class professional services anywhere in Melbourne.
Why Rug Should Be Cleaned On A Regular Basis?
Keeping your rugs clean is necessary as it keeps your house healthy and sanitary. Everyone rubs their feet on the rug when they enter your home. And cleaning keeps filth and dust at bay. It also helps to extend the life of the carpeting in your home. Regular rug cleaning also minimises the danger of allergens, mould, and bacteria growth in your rug's fibres. Cleaning your rug may also help to restore its natural colour and texture, making it seem like new. As a result, you get no dust in the indoor air because you have a cleaned rug at the home entrance.
Types of Rugs That We Clean In Melbourne:
Some rugs, particularly those made of natural fibres like wool or silk, may be more delicate and require more careful handling. Our professional rug cleaners can handle any type of rug cleaning using specific strategies. We can clean different types of rugs with the best-suited service technique.
We will be there to help you, just you will need to inform us about your rug cleaning requirements.
What We Offer In the List of Rug Cleaning in Melbourne
We offer varieties of rug cleaning services as per your rug requirement.
If you have any queries related to Rug Cleaning in Melbourne, contact us. We will be answerable and will let you know more information about the company and our services.
Our Rug Cleaning Steps For Best Results
Our Melbourne Rug Cleaning team uses the following steps for the best results in rug cleaning:
Inspection And Analysis: Our professional rug cleaners start with an initial inspection of the condition of your rugs. This step will help properly determine the following cleaning steps to get the best result out of Rug Cleaning Services in Melbourne.
Vacuuming: In this step, our team remove dirt and debris accumulated on your rugs. We use vacuum cleaners with high suction power to ease the further cleaning steps.
Pre-treatment: In this step, we patch-test our cleansing product on your rugs. This will assist better in whether the product fades the colour of the rug and affects the material or not.
Rug Stain Removal: If there are any stains on your rug stain removal specialists start to treat the stain carefully.
Rug Shampooing: Following stain removal, we will follow the carpet shampooing or steaming technique based on customer demand. In this, we will use a foaming substance that will clean even the deep layers of the rug. This helps to remove even the mould growth from the deep layers of the rug.
Rinsing: Followed by shampooing we perform rinsing. This step will rinse all the residue of the shampooing step and will make your carpets squeaky clean.
Drying: At last, we complete the job of Rug Cleaning by drying your rugs. We use powerful vacuum cleaners to dry your rugs properly. So that you can use them again immediately after we leave.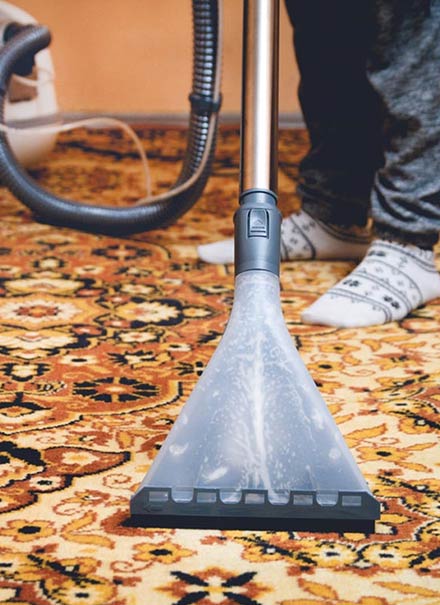 Need Same-day Rug Cleaning In Melbourne Or Nearby Areas? Call Us!
If you also want to avail of same-day cleaning then contact our local rug cleaner now. When you book our same-day rug cleaning service, our team will reach your place within the hours of your booking. You will see how our professionals work promptly as well as professionally. Our expert rug cleaners offer services in all commercial and residential places of Melbourne as well as all nearby suburbs. As they are equipped with modern tool and techniques which helps us to complete the whole cleaning process quickly. Thus for our same-day services, we meet the process within the same day. Or, even you can hire our staff for emergency rug cleaning in Melbourne.
Why Do You Need To Trust On Rons Rug Cleaning in Melbourne Over Others?
When you search for rug cleaning near me, you will find us more compatible than other rug cleaning companies. We are the best service providers and served almost every home in Melbourne. The various reasons that state why choosing our Rug Cleaning services is your best option are:
Affordable Prices: We provide you with the most affordable rug cleaning prices. This feature of ours has helped in creating such a large customer base. Therefore get in touch with us to get the best prices in the city.
Certified Team: Our team is certified under IICRC to conduct rug cleaning services at your property. We are capable to keep ourselves up to date with modern techniques.
24-by-7 Availability: Our team is available 24/7 through our toll-free number. We are always there just a call away to help you with any queries regarding our appointment booking process or our quotes for Rug Cleaning Services.
Team Of Locals: Every member of our team is local. Thus we are very well aware of the current environmental and geographical situations of the city. We have almost more than 25 years of working knowledge and experience.
So, be quick and never miss the opportunity to "Schedule a Consultation" with our best rug cleaners in Melbourne. We give free consultation and advice to make you feel better about rug cleaning issues.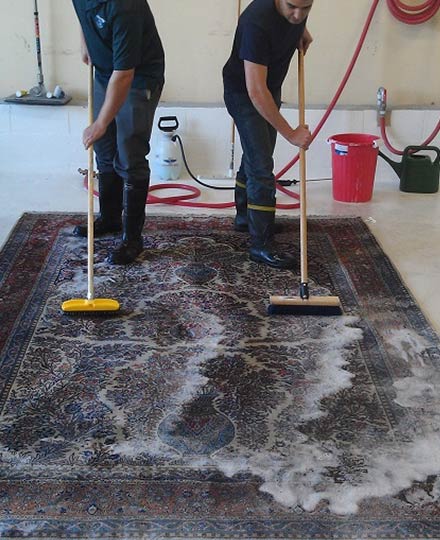 FAQ'S
After rug cleaning, it normally takes 6-12 hours for a rug to dry. But you speed up the drying time by using dryers and airing out the rug.
While you may clean your rug on your own, it is best to have it professionally cleaned. This ensures appropriate cleaning and maintenance.
Rug cleaning costs vary according to the size of the rug, the material, and the amount of cleaning necessary. It might range from $50 to $300 on average.
Yes, our rug cleaning company provides free advice and quotations. To "Get a Free Quote", you can dial our toll-free numbers. You will get all the possible information you need for rug cleaning in Melbourne.